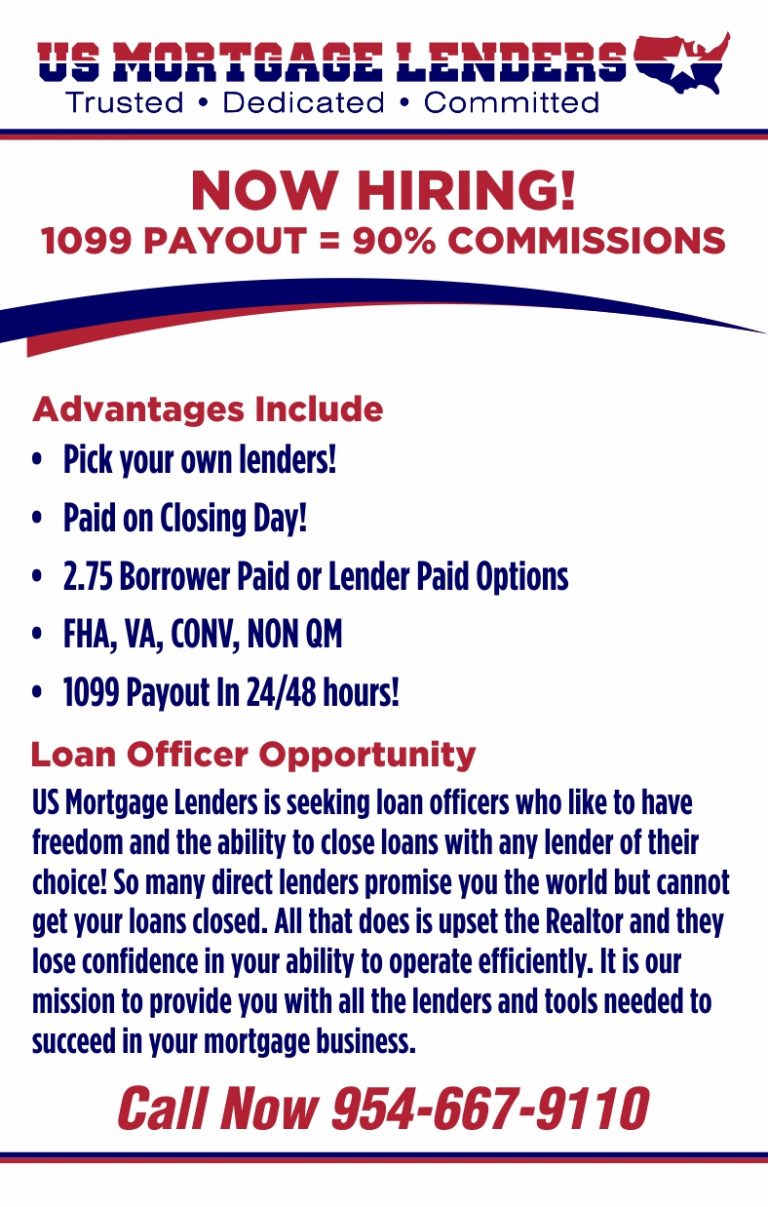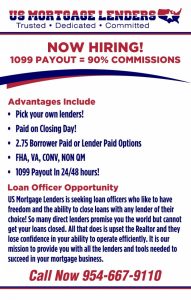 Mortgage Loan Originator Job Description:
US Mortgage Lenders LLC is hiring remote mortgage loan originators with a proven sales track record of honesty and integrity for the best work-from-home job opportunity. We are a highly established mortgage company seeking self-sufficient loan originators to work from home selling unique loan programs and specialized services. We respect our loan mortgage originator's independence and encourage them to work from home while giving them access to our 100+ lender systems and processes and daily Zoom meetings. We pay the highest commissions in the field of mortgage lenders while still offering the most competitive rates options. 
Work From Home Job Highlights:
Highest Compensation structure in the industry.

100+ Wholesale Lenders FHA, VA, Conv, NON-QM, Niche Lenders providing specialty loan options.

Daily Zoom Training and Networking calls.

LOS – Loan Origination System Provided with no additional fees or choose your own.

Work Remotely, Process, Submit close your own loans, or hire a processor.

Full control of your files, call underwriter account reps directly.

Pick Your Own LOS loan origination software.

Pull Your Own Credit Reports.

Par Rates from All the Top Wholesale Lenders.

Credit score approvals down to 500.

Same-day underwriting approvals.

Discount Mortgage Insurance Premiums.

Healthcare and Lead Program Discounts.

Newly Licensed Loan Officer Training.       
Borrowers can complete the on a cell phone or computer.

Real-time notifications every time a borrower submits an application

Integrate + into your website, email signature, and social media pages.

Quick-link version to capture leads by collecting just the basic information.
LOAN ORGANIZATION SOFTWARE OPTIONS
Price out loans and generic disclosure packages quickly and easily.

Preset your fees to automatically generate fee estimates.

Run credit, e-sign documents, verify assets and download conditions.

3 Options Include UWM Blink, Preapp1003, and Arive.
REQUIRED QUALIFICATIONS AND SKILLS TO WORK WITH US
Must be a licensed Mortgage Loan Originator with the NMLS https://nationwidelicensingsystem.org.

Must be proficient in gathering, submitting, and processing mortgage loans.

Must have sales experience!
FAST ONBOARDING TO WORK FROM  HOME
Sign the agreement, Transfer the license, get logins, and start submitting.

Process your loans while you transition.

Onboarding includes a description of lender programs and lender recommendations.

One on one Account rep support and training to learn new systems.

Weekly Lender provided training webinars to learn new systems.